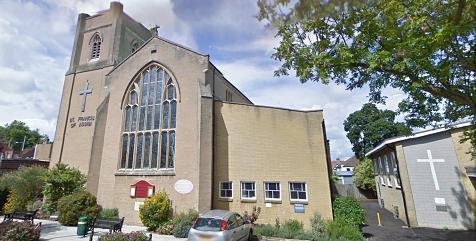 Welcome to the website of
St Francis of Assisi, West Wickham
St Francis of Assisi, Ravenswood Avenue, West Wickham, BR4 0PW.
St Francis is situated just off the High Street in West Wickham (opposite Sainsbury's car park!) Our church worship is in the Central Anglican Tradition.
We are a community of faith in touch with the wider community
We form the other half of a United Benefice with St Mary's, West Wickham and our congregations work closely together. You can find out more about St Mary's using this link to their website. For the latest edition of our magazine click here. We also have our own Facebook page which you can view here Please 'like' our page! Click here to make a one-off donation to St Francis
Services in Church next Sunday, 29th May, will be 8am Holy Communion at St Mary's and 10.45am Holy Communion at St Francis'. The 9.15am Holy Communion from St Mary's and the 10.45am from St Francis' will be livestreamed.
For our latest pew sheets click here. For the latest news of special services and events in the Benefice click here.
L

ive 'Open Air' Courtyard Event at St Francis', with bar and refreshments, for the Queen's Platinum Jubilee featuring special guests 'The Whiskey Sours', Sunday 5th June, 3 - 6pm. Followed by a 'Songs of Praise' style celebration for Pentecost at 6.15pm. For more details

click here

To see and hear The Whiskey Sours

click here

Deanery Pilgrimage - Saturday 11th June - The churches in our Deanery (Croydon Addington) are having their first ever pilgrimage visiting each church in the Deanery including St Francis' and St Mary's. For details of the route and approximate timings click here
Our church hosts several concerts during the year. To view details of the upcoming concerts click here.
We hope you enjoy finding out more about us from this website and we look forward to welcoming you to one of our services or activities.
The Revd Hazel O'Sullivan
Vicar